(Above: 'But Boss, You Said I Had to Wear a Bra' by Pam Burris; Actors: China Young, Gary, Vince Flynn; Director: Vince Flynn; 2014 OPP Festival.)
(Above, Leslie Powell's Soldier Boy, 2014 OPP New Play Festival. Actors: J.R. Dodge, Diane Ouradnik. Director: Dave Sewell. )
 WEEKLY SCHEDULED READING
September 26:
Reid Gilbert will bring his play,
No Admittance
, for a third reading. Sydney Flynn will be the facilitator.
September 19
:
The Authentic Life of Bonobo,
new play by returning member Janice Ambrose. Sydney Flynn will facilitate.
September 5
:
The Gravedigger's Lament,
a new play by Gavin Kayner.
August 29: visiting former member Hilary Lyons will present her new play, Tighten Your Borscht Belts. Hilary is going to re-join OPP in order to conform to the regulation that only members are allowed to read plays.
August 22: second reading of Phil Levere's play, One Gray Spot.
August 15: Dave Sewell will bring his short play, Waiting For Norma. This will be the first reading at OPP.
August 8: Board Meeting, all members are welcome to attend
August 1: reading; Gavin Kayner presenting
July 25: no meeting
July 18, John Heyl will present his play, K's Homecoming. Sydney Flynn will be the facilitator.
July 11: Reginald Rake And The Day The Earth Went Dim, by Dave Sewell
June 27: Discussion about Play In A Day and the next New Play Festival
June 20

: The Shot, a short play by Tim Foran and
Fainting Goats, the play Tim and Phil co-wrote for Play In A Day.
June 13

:  You're Alive, Buddy Boy! by Mark McMahon
June 6
:
When The Gods Clash
by Gavin Kayner, full length; previously read and since revised.
May 30

: Reid Gilbert will lead a workshop on Asian theater.
May 23: A second reading of The Election of Adanya Kulu by Brian Desautels.
May 16

: A first reading of One Gray Spot by Phil Levere.
May 9
: A third reading of
Bang Bang Dead
by Gavin Kayner.
May 2: A second reading of Both Sides of the Fence by Denise Bjornson.

NOTE About April 18 and April 25 Venues:
The meeting on April 18th  Temple Gallery, located over the Holsclaw Theater (the main stage) lobby.  We also have the option of using the Gallery on the 25th, though because we are expecting a much larger turnout for the speaker, I requested the use of the Temple Lounge, which involves a small fee for an ATC staff member to be on-site. ATC is considering the request and will get back to us soon.
April 25: David Sterling Brown, U of A English Department
April 18: After The Apple, a new one-act play by Sheldon Metz
April 11: OPEN
April 4-9: Tech rehearsals and performances for the New Play Festival.
March 28: The non-member Four by Ten. Ten-page readings from four non-member writers: Renata Rauschen
March 21: Four by Ten: John Heyl, Vince Flynn, Phil Levere, Leslie Powell
March 7
, 
Festival auditions
February 29: Second read of Reid Gilbert's No Admittance
February 22: Second read of Vince Flynn's Home Again, Home Again
February 15: 2016 Speaker's Series: Doug Stevenson will speak on "Storytelling: An actor's perspective on building structure, character, and emotion.
February 8: Finalize Facilitator Guidelines
February 1: Carl Damhesel and David Rochon will bring a screenplay, Mark and Lucille.
January 25: one-act by Reid Gilbert
January 18: no meeting; Board will Meet
January 11: Bubbe's Legacy, second reading, by Sheldon Metz
January 4: no meeting, Board will Meet
2017 New Play Festival!
January 16-22
Read a review of this year's Play in a Day!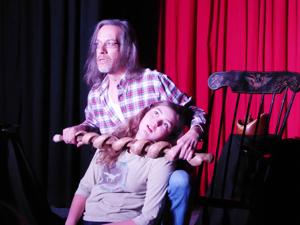 Rich Miller and Emily Muirhead perform "New Neighbors,"  written by E. Reid Gilbert and directed by Dlyn Fairfax at the Play-in-a-day production.