(Above: 'But Boss, You Said I Had to Wear a Bra' by Pam Burris; Actors: China Young, Gary, Vince Flynn; Director: Vince Flynn; 2014 OPP Festival.)
(Above, Leslie Powell's Soldier Boy, 2014 OPP New Play Festival. Actors: J.R. Dodge, Diane Ouradnik. Director: Dave Sewell. )
New Play Festival
April 4-9, 2016, Cabaret Theatre, Tucson
___________________
 SCHEDULED READINGS
February 22: A second reading of Home Again, Home Again, by Vince Flynn.
February 15: 2016 Speaker's Series: Doug Stevenson will speak on "Storytelling: An actor's perspective on building structure, character, and emotion."
February 8: Finalize Facilitator Guidelines
February 1: Carl Damhesel and David Rochon will bring a screenplay, Mark and Lucille.
January 25: one-act by Reid Gilbert
January 18: no meeting; Board will Meet
January 11: Bubbe's Legacy, second reading, bySheldon Metz
January 4: no meeting, Board will Meet
Read a review of this year's Play in a Day!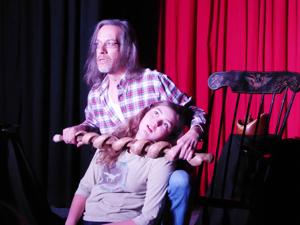 Rich Miller and Emily Muirhead perform "New Neighbors,"  written by E. Reid Gilbert and directed by Dlyn Fairfax at the Play-in-a-day production.